Monterey Bay F.C. goalkeeper Antony Siaha's journey to professional soccer began in Yaoundé, Cameroon before transitioning stateside where he was raised in Tucson, Arizona. From there, Siaha's climb through the ranks has been anything but easy. Through it all, Siaha ended up here in Monterey County, and is now the man between the pipes for the Union.
"Having been born in Yaoundé, Cameroon, soccer was all we really played," explained Siaha. "The game was very poor back there. We didn't really play with goals, we just set up rocks and then the balls would be water bottles. But the game was still really fun, so my love for soccer grew from that."
His subsequent move to the United States meant easier access to soccer balls rather than water bottles, actual goals instead of rocks, and the overarching opportunity for organized play. Siaha's love for soccer truly blossomed from there, including his dreams to play professionally one day.
"I always wanted to play professionally, I can't remember ever not wanting that for myself," Siaha said. "To be honest, I was such an athlete that I felt like I could play any sport professionally, I just really loved soccer. And I think that if you have a love for something like that, you'll do whatever it takes to make it. And I just knew I was going to get there because I had the raw skills, I just never knew when."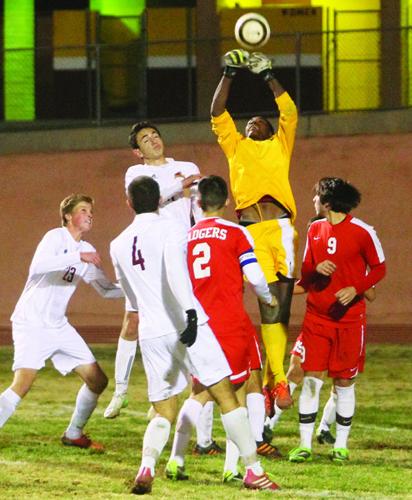 He continued, "I just never gave up pursuing soccer. I made some bad choices along the way, but what got me here is that I never gave up, no matter what. I just kept telling myself that as long as I never give up, I'll get to where I want to be. I just worked hard every day, whether I had a roof over my head or not. And I made sure that I was training and playing soccer anywhere I could find."
Siaha started with club soccer, but it was his season-long performance during his sophomore year in high school that caught the attention of the professional scouts. Siaha had allowed just six goals in 30 matches that season, and shortly after, the Real Salt Lake (RSL) Arizona Academy came calling.
"RSL Arizona helped me really understand that I had a lot more work to do as a goalkeeper," recalled Siaha. "When I got there it was a different style of soccer, a lot more passes, and I really liked that. It was a whole different game almost, and it motivated me to go even harder. Everything was fun with RSL Arizona. But when I got to college, it was a whole different journey for me. It was more about dealing with life than soccer. I went to California State University Bakersfield my first year, and the soccer was good, but I had a lot of life crises that I was going through. I made some pretty bad choices in my life, but I kept soccer around me and it got me here."
After ensuing collegiate stops at both Ottawa University Arizona and Benedictine University in Mesa, Arizona, Siaha moved to San Diego to live and train with a friend before working to get his own place. It was during that time that the goalkeeper participated in a tryout with National Independent Soccer Association (NISA) club San Diego 1904. He made the team and signed his first professional contract, but because of COVID19 shutting the world down in 2020, the season was canceled and Siaha never played a single match.
"After that I was just working and training. Then one day Matt Hall from San Diego Loyal SC saw me playing at a park and asked me to come train with them and I ended up signing with them after that," said Siaha. "Loyal SC was the first time in my life that I didn't have to worry about housing. I was in a professional environment for the first time. I was just blessed to be there and I had a good time."
Though he enjoyed his time with Loyal SC, Siaha did not make a single appearance for the club. After spending the 2022 preseason in San Diego, he found himself on the outside looking in. It was then that Siaha was given the chance to compete for a spot on the newest professional soccer team in California, Monterey Bay Football Club.
"Having to leave San Diego messed my head up a little bit, I'm not going to lie," explained Siaha. "But Landon [Donovan] and Frank [Yallop] were really good friends, and because Landon knew that I just needed some games, he talked to Frank about having a trial here. I came here, trained every day until I got my chance, and now I have it."
Siaha signed with Monterey Bay F.C. on May 20, two months into the club's inaugural regular season and earned his first opportunity to start on July 9 on the road against Orange County SC. Since then, with the help of the Union defense, Siaha has allowed just five goals in his first nine starts for an impressive goals-allowed average of just 0.56 per match. Siaha has saved 24 of his 29 shots faced and has earned five clean sheets for a total win-loss record of 5-3-1 so far this season.
"I feel free here," Siaha expressed. "In the past I had to do as I was told, move the way they wanted me to move. But over here, I am very free. I get to play how I believe I can play because coach believes in me. At the end of the day, he's given me a chance, so everything out here has been a blessing so far. It's an amazing feeling to play the game you love with everybody cheering you on. It feels good playing for fans like this who actually like you and know what you can do. And when they chant my name, it feels great, but I'm more excited that my family's name is out there to be honest. It makes me and my family proud."