Monterey Bay F.C. defender Kai Greene helps to anchor the Union defense at the center of the back line and is playing an enormous role in the club's recent successful run of shutouts and results. For the New Jersey native, however, getting to this point was not easy. His journey to professional soccer started at the age of five when his mom introduced him to a local soccer club called Ironbound SC.
"They just threw me in there," explained Greene. "I didn't really know much about it or anything about soccer. My family didn't grow up on soccer, it was just a means to keep me active and busy at first. I really didn't have any aspirations at all to play professionally. It was just something that I liked playing with my friends, I had fun playing it."
Though Greene did not have any aspirations to play soccer professionally at the time, that all changed one night following the sound of the final whistle blowing on the last match of his club's season that summer, and the final match of his club career.
"I happened to have a hat trick – yes, I played winger," Greene laughed. "It was the last game of the season and the coach from Seton Hall came up to me after the game. He offered me a scholarship to go play over there and that was a big turning point for me."
He continued. "When I played with Seton Hall my freshman year, I had a good game against Notre Dame and that's when the assistant coach told me that there were U.S. scouts looking at me, keeping an eye on me. That was eye-opening for me, that was when I thought 'hey, maybe I can do this.' From that point on, I was driven to play professionally."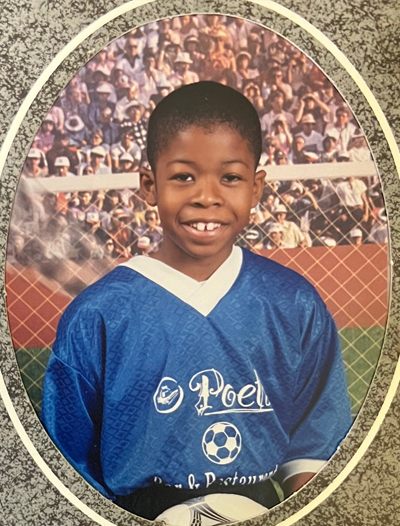 Once Greene's mind was set on going pro, he focused on putting his head down and getting to work. He trained as hard as he could during practice, with no complaints. But even though he believed he was good enough to be drafted, he was not. He was not invited to a combine either.
"It was tough. We never had a winning season at Seton Hall, so maybe that took a toll on me and a lot of the players that we had," wondered Greene. "Then at the end of the year, I took a trip to Germany for a week to train, and it was not for me. So, I came back and took that road of open trials."
Greene began trialing for teams around the county, and at one point he had to choose between two teams hosting trials at the same time. Rio Grande Valley FC (RGV) in the USL Championship, and Major League Soccer side Orlando City SC. Even though Rio Grande Valley FC was expecting to see Greene, he chose to trial in Orlando. But as fate would have it, Orlando went in a different direction, and Greene was left without either — or so he thought.
"I spoke with the assistant coach at Rio Grande Valley FC. He told me to come over, and said they would still look at me," Greene recalled. "And I thank God that he still let me come by and showcase myself. I tried out, showed my stuff and they signed me in March of 2016."
"After that, it was a grind. It was crazy because I got there my first year and there's all these guys from all of these big schools who have won national championships, and I was intimidated at first. But at the end of the day it really doesn't matter. If you're a good player, you're a good player. I settled in and realized I could compete with anybody. There were a lot of ups and downs during my first year, but I was just grateful that I had the opportunity with them, grateful that they picked me up."
During his time at Rio Grande Valley FC, Greene learned what it was like to be a pro and what to expect. And because RGV was affiliated with MLS side Houston Dynamo at the time, playing for RGV was a constant tryout. Greene trained up and down with both RGV and Houston Dynamo throughout his three years at the club, but when moving up to the first team full time did not pan out, Greene made the move to San Antonio FC.
Then, after two seasons and 42 appearances with San Antonio FC, Greene made the move to Oakland Roots SC during their inaugural season in USL Championship in 2021. Following his lone season in Oakland, Greene moved approximately 100 miles South to join Monterey Bay F.C. ahead of its respective inaugural campaign in USL Championship this season.
"I got connected with Frank [Yallop] and I just gravitated toward him right away, it was automatic," said Greene. "He is such a player's coach. He understood me, he understood my situation, and as a player you can't ask for anything else. He is very genuine as well. I've been with coaches who make a lot of promises before putting you in the shadows. But Frank has been very transparent with me. He just wants guys who work hard. He made it very easy for me to transition over here as well, I am very grateful and thankful for that, along with the rest of the organization. They made it very easy for me to come here, especially with my wife having a child on the way at the time."
Greene has been a positive, consistent fixture on the back line of the Crisp and Kelp's defense and has played a major role in the defense's impressive run of form since the start of July. Greene has played the second most minutes on the team this season with 1,980, and has recorded 77 clearances, 36 interceptions, 35 tackles, and 13 blocks. Greene has also added two assists; the first of which came on March 26 in Oakland when he set up center back partner Hugh Roberts for the game-winning goal in the 90th minute to earn the club its first-ever win.
"It's been good here, we have a good group of guys," Greene said. "We've had a rollercoaster of a season to say the least. Shout out to the fans who have stayed through thick and thin, because we have gone from scoring boatloads of goals to leaking boatloads of goals to now where we're defending more and getting a lot of clean sheets. It's just been a big wave of emotions and results. We're finally turning the ship around at the right time, because this could have been down all the way bad if we continued on that trend, but we're starting to figure it out right now and it's an exciting time."
Greene continued. "Playing in front of the fans gives you a push. You may be gassed at the 75th minute, but then you got the crowd cheering every time you make a crunching tackle, or when you whip in a good ball, or when a good opportunity comes, and that stuff matters. A lot of away teams feel that, they feel that pressure. It's demoralizing when you give up a goal here as an away team. We sincerely appreciate the support of the fans. They really get us going and keep us going."