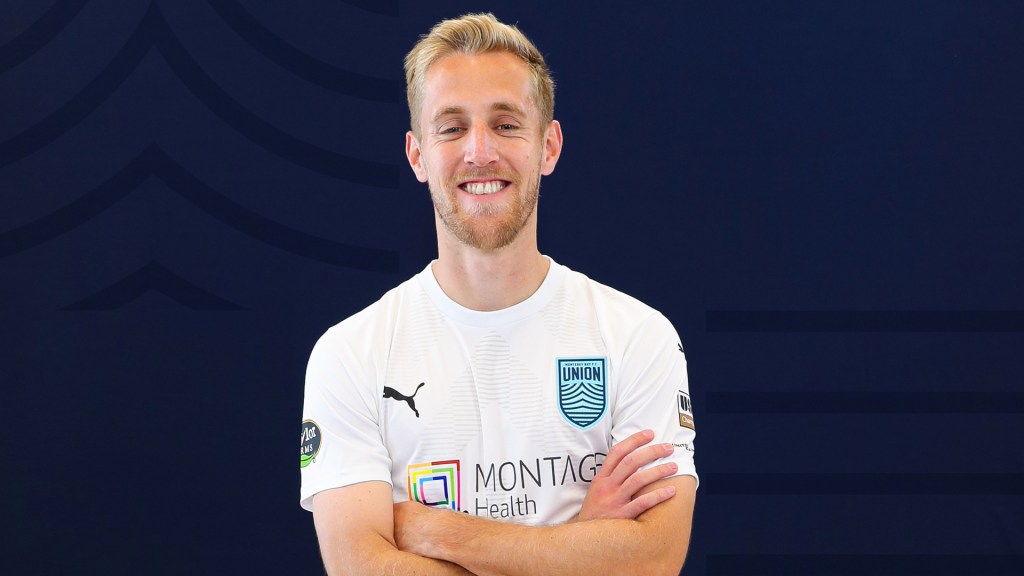 Monterey Bay Football Club (Monterey Bay F.C.) midfielder Sam Gleadle announced earlier this month that he has joined Athlete Ally's mission of Playing for Pride throughout the month of June, culminating in the club's final match of the month on Saturday, June 25 against Sacramento Republic FC.
"Playing for pride is something I have done starting my very first year as a professional – I was approached by Athlete Ally and instantly hopped on board," explained Gleadle. "My aunt is a part of the LGBTQIA+ community. Growing up with such a happy, loving role model in my life makes this all the more important. It is wild to me that in 2022, communities such as these, who are so loving and welcoming, are still facing so much hate and negativity. I want everyone to be loved and have them be able to love whoever they want. If they are happy, I am too."
Additionally, Monterey Bay F.C. will be celebrating Pride Night in this weekend's match against the club's NorCal rivals this Saturday. Union players will wear Pride warm-up tops that will be signed after the match and auctioned off, with all proceeds benefiting local LGBTQ+ organizations. Special edition Union Pride merchandise will be available in the team shop as well, and the first 1,000 fans who enter the stadium will receive a commemorative Union Pride bracelet.
"Having a home match is always an exciting endeavor but adding this special occasion to the night increases that feeling for sure," he added. "Having the club showing their support and being an ally for the LGBTQIA+ community is incredible, and I hope every organization will do the same. All the teams I have been a part of have been on board from the get-go or joined me instantly in Playing for Pride in support of Athlete Ally. The soccer community is a small one, it's important for us to be strong allies and inclusive. Love is love."
Playing for Pride is an annual campaign by Athlete Ally, an organization whose mission is to activate the athletic community to exercise their leadership to champion LGBTQI+ equality.
Gleadle continued, "if you are able to, please help me support the LGBTQIA+ community by matching my donation for the month of June. I will update everyone with the total at the end of the month of how much I am donating. If you cannot donate, please share and spread the love."

Single-game and group tickets for this Saturday's Pride Night match against Sacramento Republic FC are on sale now. Visit www.montereybayfc.com/tickets to purchase your tickets. For more information on Pride Night, please visit www.montereybayfc.com/pride.