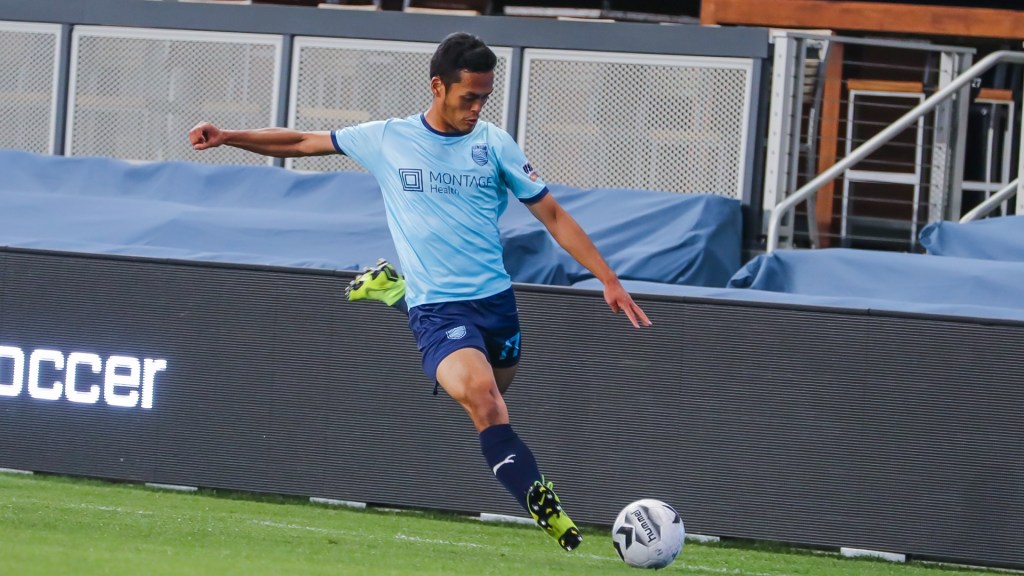 EL PASO, Texas (Saturday, April 9, 2022) – In the club's sixth consecutive road match of the season and third contest this week, Monterey Bay F.C. (1-4-0, 3 points) fell 5-0 to El Paso Locomotive FC at Southwest University Park in Week 5 of the USL Championship Regular Season.
In an eventful first half, the home side jumped onto the front foot early and looked to be the more dangerous side right away. In the 15th minute, El Paso forward Diego Luna created space from the defender and fired a shot on goal, but a diving effort by Dallas Jaye denied the opportunity. Jaye's outstretched glove stopped the shot from sneaking into the bottom of the near-post and out for a corner. Locomotive FC scored four minutes later on a header by Andrew Fox that initially looked to be headed clear off the line by Morey Doner, but the ball was ruled to have fully crossed the goal line and the home side took the 1-0 lead. Then in the 35th minute, El Paso was awarded a penalty and converted to double the lead to 2-0. Late in the half, Robbie Crawford was shown a second yellow for a handball near the top of the box and was ejected from the match, leaving the visitors with 10 men for the final 45 minutes.
Two minutes into the second half, Locomotive FC forward Josue Gomez scored his second goal of the contest with a chip over the goalkeeper to bring the score to 3-0. Shortly after in the 51st minute of the match, Luna buried a low shot inside the near post to make it four goals for the home side. Then in the 75th minute, midfielder Dylan Mares made it five with a shot into the bottom right corner of the net from outside the box and the match ended 5-0.
Notes:
– Midfielder Robbie Crawford earned his first start for Monterey Bay F.C. in league play.
– Rafael Díaz (shoulder), Grant Robinson (hamstring), Kai Greene (hamstring), Arun Basuljevic (hamstring), Chase Boone (hamstring) and Christian Volesky (chest) all missed the match to injuries, while Seku Conneh (groin) played limited minutes off the bench.
– Sam Strong (calf) left the match after suffering an injury in the first half.
Match: El Paso Locomotive FC vs Monterey Bay F.C.
Date: April 9, 2022
Venue: Southwest University Park; El Paso, Texas
Weather: Mostly clear and 81 degrees
Attendance: 7,148
Scoring Summary: 1 2 F
El Paso Locomotive FC 2 3 5
Monterey Bay F.C. 0 0 0
ELP: Andrew Fox (Dylan Mares) 19'
ELP: Josue Gomez (PK) 35'
ELP: Josue Gomez (Eder Borelli) 47'
ELP: Diego Luna (Eder Borelli) 51'
ELP: Dylan Mares 75'
Lineups:
El Paso Locomotive FC (4-3-3): Evan Newton; Eder Borelli (Nicholas Hinds 88'), Andrew Fox, Yuma, Harry Brockbank (Shavon John-Brown 87'); Louis Herrera (Ricardo Zacarias 45'), Richie Ryan (Eric Calvillo 88'), Dylan Mares; Diego Luna, Josue Gomez, Emmanuel Sonupe (Christiano Francois 88')
Subs not used: Phillipp Beigl, Martin Payares
Monterey Bay F.C. (4-2-3-1): Dallas Jaye; Jiro Barriga Toyama, Hugh Roberts, Sam Strong (Adrian Rebollar 45+4'), Morey Doner; Mobi Fehr, James Murphy; Walmer Martínez, Robbie Crawford, Sam Gleadle; Chris Cortez (Seku Conneh 52')
Subs not used: Chase Boone, Simon Dawkins, Jesse Maldonado
Stats Summary: ELP / MB
Possession: 70.7% / 29.3%
Shots: 20 / 0
Shots on Goal: 13 / 0
Saves: 0 / 8
Corner Kicks: 2 / 1
Fouls: 16 / 18
Misconduct Summary:
MB: Robbie Crawford (caution) 9'
ELP: Louis Herrera (caution) 21'
MB: Sam Strong (caution) 41'
MB: Robbie Crawford (dismissal) 45+1'
ELP: Andre Fox (caution) 54'
ELP: Yuma Monsalvez (caution) 64'
MB: Seku Conneh (caution) 90'
Officials:
Referee: Jervis Atagana
Assistant Referees: Chris Canales, Benjamin Davis
4th Official: Marco Vega