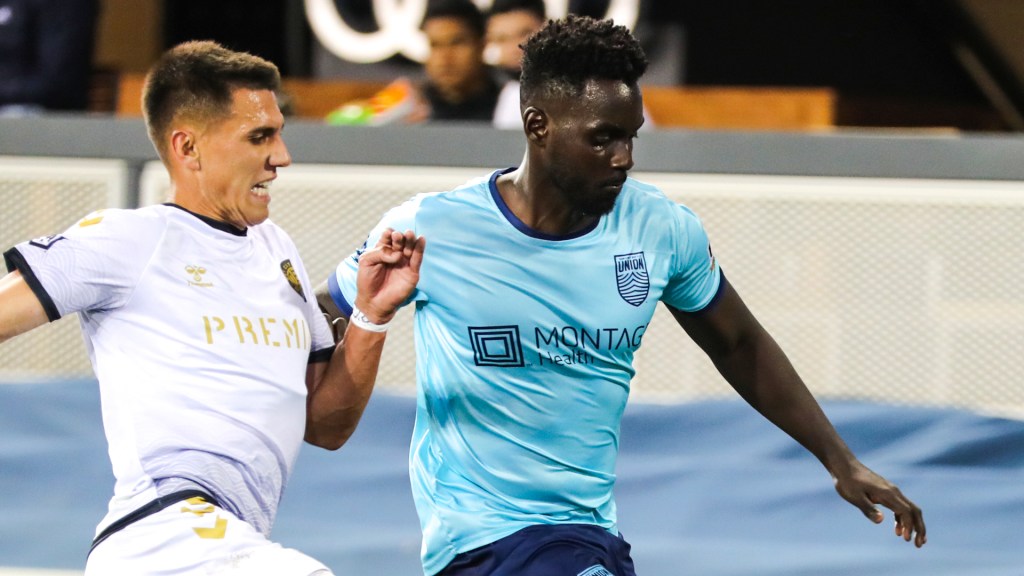 SAN JOSE, California (Wednesday, April 6, 2022) – Monterey Bay F.C. fell 2-1 to Bay Cities FC in its second round match of the 2022 Lamar Hunt U.S. Open Cup at PayPal Park in San Jose on Wednesday night.
Robbie Crawford scored for Monterey Bay F.C. with a header late in the match, but two second half goals earned Bay Cities FC the win.
Access the postgame quote sheet here
With Monterey Bay F.C. dominating possession in the first 30 minutes of the match but unable to find the breakthrough, the Union continued to apply pressure high up the line. In the 29th minute, Monterey Bay forced a turnover in a dangerous position, but the ensuing shot by Simon Dawkins missed over the top of the crossbar. Bay Cities earned its first chance of the night in the 33rd minute following a corner, but the shot from outside the box missed to the left and the sides went into halftime with the score knotted at zero.
In the 55th minute of the match, Bay Cities FC took the 1-0 lead with the opening goal of the match. Following a shot that forced Dallas Jaye into a save, Bay Cities cleaned up the loose ball in the box and found the back of the net. In the 70th minute after creating a turnover at midfield, Sam Gleadle received an over-the-top pass on his run into the box, but his shot missed to the left. Monterey Bay F.C. continued to break down the defense several times over the next five minutes and created chances by Mobi Fehr, Walmer Martínez and Chris Cortez. Fehr's second chance of the night was a shot perfectly aimed at the top-right corner before being pushed away by the goalkeeper, while Martínez and Cortez' ensuing shots inside the box were blocked by defenders to keep the Union out of the net.
Monterey Bay F.C. equalized in the 87th minute of the match following a run down the right sideline by Morey Doner. Doner looped a cross into the box, and Crawford rose up to bury the headed ball into the back of the net and seemingly send the match into extra time. But four minutes later in the first minute of added time, Bay Cities FC created one last chance and capitalized to take the lead and the match ended 2-1.
Match: Bay Cities FC vs Monterey Bay F.C.
Date: April 6, 2022
Venue: PayPal Park; San Jose, California
Weather: Sunny and 76 degrees
Attendance: 1,027
Scoring Summary: 1 2 F
Bay Cities FC 0 2 2
Monterey Bay F.C. 0 1 1
BAY: Rei Dorwart 55'
MB: Robbie Crawford (Morey Doner) 87'
BAY: Edson Cardona 90+1'
Lineup:
Monterey Bay F.C. (4-2-3-1): Dallas Jaye; Jiro Barriga Toyama, Sam Strong, Kai Greene (Hugh Roberts 45'), Sam Gleadle; Robbie Crawford, Mobi Fehr; Simon Dawkins (James Murphy 84'), Adrian Rebollar (Walmer Martínez 64'), Jesse Maldonado (Morey Doner 45'), Chris Cortez
Subs not used: Chase Boone
Stats Summary: BAY / MB
Possession: 38% / 62%
Shots: 8 / 14
Shots on Goal: 4 / 3
Saves: 2 / 2
Corner Kicks: 5 / 6
Officials:
Referee: Turan Ozdemir
Assistant Referees: Andrew Hanks, Peter Hanson
4th Official: Brian Cordova Munoz