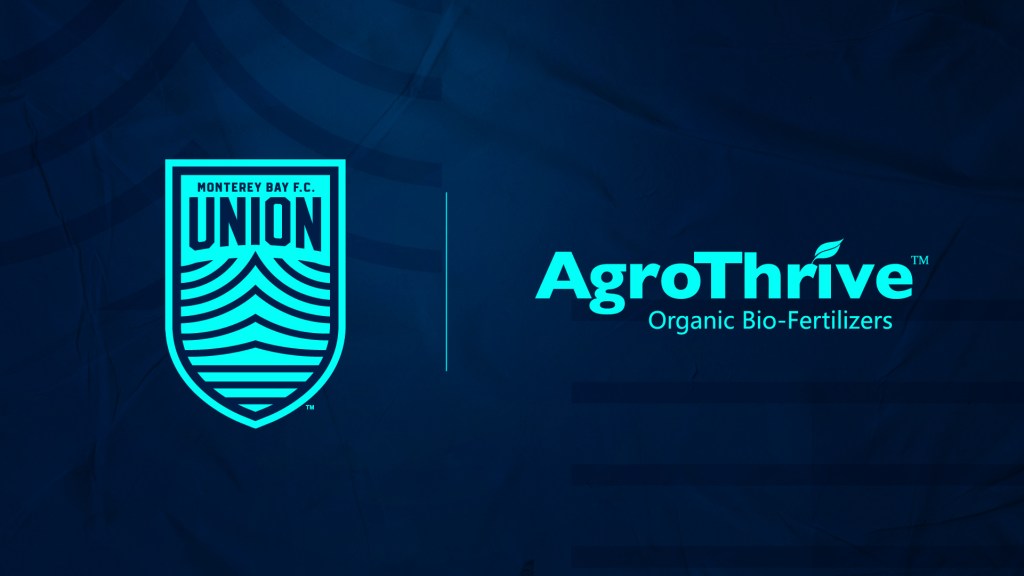 SEASIDE, Calif. (Wednesday, June 29, 2022) – Monterey Bay Football Club (Monterey Bay F.C.) announced today a new partnership agreement with AgroThrive. As a Proud Partner of the club, AgroThrive will receive static field board exposure at each remaining match at Cardinale Stadium this season.
"The Union's Crest, signifying the coming together of land and sea is the essence of our business; safely repurposing fish waste into fertilizers that Salinas Valley farmers, landscapers and gardeners apply to the land," said Will Daniels, AgroThrive's President. "We are proud to partner with MBFC and bring professional soccer to the Central Coast."
AgroThrive's mission is to improve the health of our soils, seas, and skies, by safely repurposing nutrient dense organic wastes into sustainable bio-fertilizers. Since 2006, AgroThrive has diverted over 30 million pounds of nutritious fish waste from entering California's waste stream where it would have otherwise released ozone destroying gasses into our atmosphere if landfilled.
"We're happy to have AgroThrive join us as a Proud Partner of Monterey Bay Football Club," said Monterey Bay F.C. President Mike DiGiulio. "AgroThrive epitomizes the concept of bringing together the land and sea, so this is an exciting partnership for our club, and we look forward to supporting each other this season."
Monterey Bay F.C. single-game tickets and parking passes are available now and for the rest of the 2022 USL Championship season. Learn more about Monterey Bay F.C. by following @MontereyBayFC on Twitter, Instagram and Facebook and online at MontereyBayFC.com.