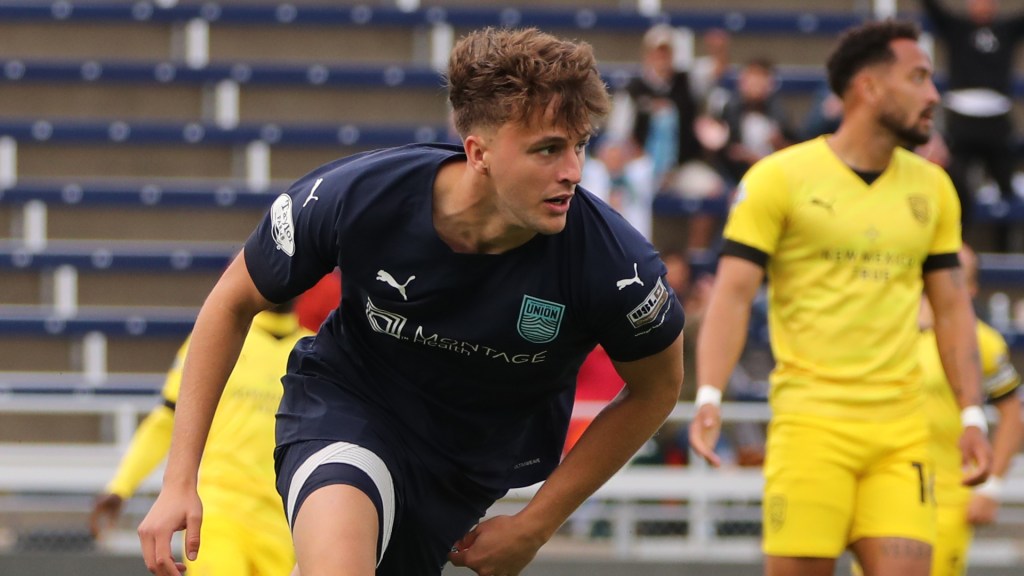 SEASIDE, California (Saturday, July 2, 2022) – Monterey Bay F.C. (4-11-1, 13 points) drew 1-1 with New Mexico United on First Responders Night at Cardinale Stadium. Chase Boone recorded the fastest goal in club history to open the scoring in the 2nd minute, but New Mexico United ultimately leveled the match behind a goal from Sergio Rivas.
Access the postgame quote sheet here
Monterey Bay F.C. kicked things off with the fastest goal in club history at the 1:43 mark of the match. After blowing past a defender on the left flank, Morey Doner whipped a ball into the box to Boone, who smashed the header into the top corner of the far post to give the Crisp and Kelp the immediate 1-0 lead. In the 34th minute, the Union created a breakaway opportunity. Walmer Martínez finished a run down the center of the pitch before pushing the ball to Christian Volesky, but the pass was heavy, and the ball ended up loose in the box. Arun Basuljevic arrived at the ball, but his shot was deflected off Volesky and out for a goal kick. James Murphy took a corner for the Union four minutes later, but the ensuing headed attempt by Volesky bounced down off the pitch and over the top of the crossbar. In the 41st minute, New Mexico United equalized with a goal from Rivas to bring the match to 1-1. Looking to steal the lead in the 2nd minute of added time, New Mexico's Justin Portillo rocketed a shot on frame, but goalkeeper Carlos Herrera's incredible diving effort kept the ball out of the net and the sides entered the break level.
New Mexico United earned three consecutive chances in the 77th minute as the visitors looked to steal the full three points, but the first two crosses were cleared away by Hugh Roberts and Doner, and the third chance, a shot from Christian Nava missed to the left of the post from the center of the box. Monterey Bay F.C. earned its best chance of the second half in the 88th minute when Grant Robinson sent a grass-burning cross into the box towards Robbie Crawford, but the shot was saved and before Seku Conneh could register a rebound shot on frame, the ball was cleared away for a throw in and the match ended 1-1.
Notes:
– With a header in the 2nd minute of the match [1:43], Chase Boone scored the fastest goal in club history.
– With the match ending 1-1, Monterey Bay F.C. earned its first draw in club history.
– After signing the day before, Jason Johnson made his club debut as a substitute in the 84th minute.
– Chase Boone earned his first start since returning from a quad injury.
– Missing the match due to injury were Rafi Díaz (shoulder), Sam Gleadle (knee) and Mobi Fehr (ankle).
Match: Monterey Bay F.C. vs New Mexico United
Date: July 2, 2022
Venue: Cardinale Stadium; Seaside, California
Weather: Cloudy and 56 degrees
Attendance: 3,114
Scoring Summary: 1 2 F
Monterey Bay F.C. 1 0 1
New Mexico United 1 0 1
MB: Chase Boone (Morey Doner) 2'
NM: Sergio Rivas (Daniel Bruce) 40'
Lineups:
Monterey Bay F.C. (4-2-3-1): Carlos Herrera; Robbie Crawford, Hugh Roberts, Kai Greene, Morey Doner; James Murphy, Arun Basuljevic (Grant Robinson 67'); Chase Boone (Simon Dawkins 72'), Adrian Rebollar (Jason Johnson 84'), Walmer Martínez; Christian Volesky (Seku Conneh 67')
Subs not used: Antony Siaha, Sam Strong, Chris Cortez
New Mexico United (3-4-3): Alex Tambakis; Rashid Tetteh, Will Seymore, Kalen Ryden; Josh Suggs (Austin Yearwood 56'), Daniel Bruce (Christopher Wehan 62'), Justin Portillo, Micheal Azira (Cristian Nava 56'); Neco Brett, Sergio Rivas, Preston Tabort Etaka (Jerome Kiesewetter 61')
Subs not used: Ford Parker, Alexis Souahy, Carl-Fred Sainte, Jerome Kiesewetter
Misconduct Summary:
MB: Robbie Crawford (caution) 64'
NM: Will Seymore (caution) 75'
NM: Christian Nava (caution) 86'
Officials:
Referee: Dejan Susak
Assistant Referee: Cameron Siler
Assistant Referee: Salvador Reyes
Fourth Official: Alberto Azpeitia-Palomino