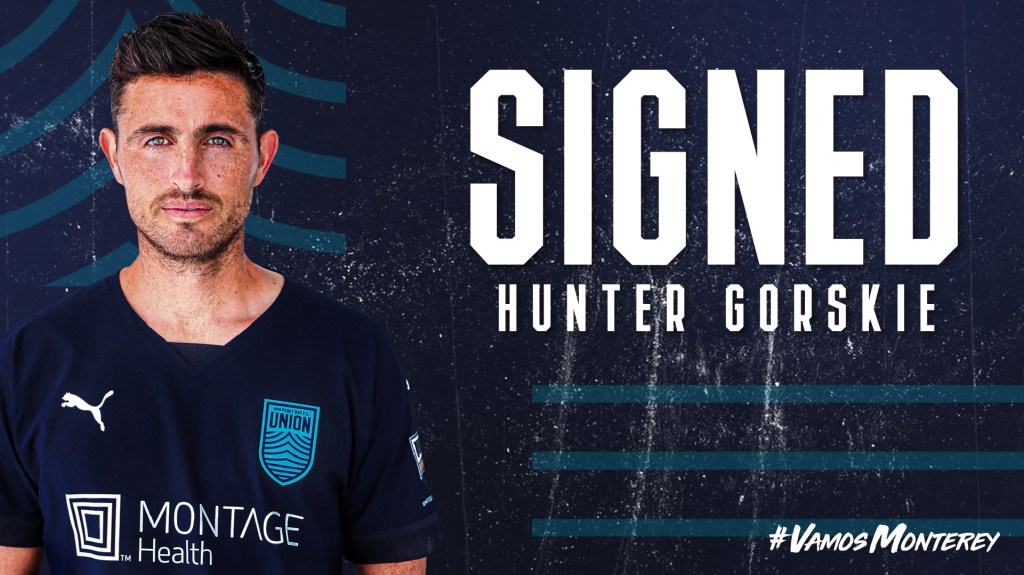 SEASIDE, Calif. (Friday, July 8, 2022) – Monterey Bay F.C. announced today that the club has signed USL Championship veteran defender Hunter Gorskie ahead of the Crisp and Kelp's Week 18 matchup against Gorskie's former side, Orange County SC, at Championship Soccer Stadium this weekend.
Gorskie's first professional contract came with National American Soccer League (NASL) side New York Cosmos in 2013, where he made 47 appearances in three seasons at the club. Prior to signing with the Cosmos, Gorskie spent a period of time on trial with Major League Soccer's San Jose Earthquakes under current Monterey Bay F.C. Head Coach Frank Yallop. Following a stop in Poland with club Miedz Legnica in 2016, Gorskie joined USL Championship side Tampa Bay Rowdies. While with the Rowdies for two seasons from 2017-2018, the New York native scored a career-high five goals in 45 matches.
He then began the 2019 season with Danish club Thisted FC before leaving to join Championship side Loudon United for the latter half of the season. While at Thisted FC, Gorskie played alongside current teammate Chase Boone and recorded one goal in 13 appearances. Gorskie remained in the USL Championship and spent the shortened 2020 campaign with San Antonio FC before joining FC Edmonton last season. Now, after beginning the current season with Orange County SC, the 31-year-old joins Monterey Bay F.C. in Seaside.
"We had Hunter with us for a little bit in San Jose a few years ago now," said Yallop, Monterey Bay F.C. Sporting Director and Head Coach. "He is an intelligent player and versatile defender. He will add some good experience to the group."
While attending Stanford University from 2009-2012, Gorskie was named team captain in both his junior and senior seasons, a rare feat in Stanford soccer history. The two-time captain led the Cardinal to multiple NCAA tournament runs during his time at the University, and earned All-Pac-12 and Pac-12 All-Academic First Team honors during his final season.
"I'm really excited to join Monterey Bay F.C. in their inaugural season," said Gorskie. "There is a unique opportunity here to help lay the foundation for something that can be really special for years to come. I want to thank Coach Yallop and the rest of the organization for embracing me with open arms and I am looking forward to the journey ahead."
Player Information:
Name: Hunter Gorskie
Position: Defender
Age: 31
Height: 5'11" 
Hometown: New York, New York
Monterey Bay F.C. roster as of July 8, 2022 (25):
Goalkeepers: 
Dallas Jaye (Danville, California)
Rafael Díaz (Paterson, New Jersey)
Carlos Herrera (San Leandro, California)
Antony Siaha (Tucson, Arizona)
Defenders: 
Morey Doner (Collingwood, Ontario)
Hugh Roberts (Olney, Maryland)
Grant Robinson (Columbia, Maryland)
Kai Greene (Jersey City, New Jersey)
Sam Strong (Santa Barbara, California)
Hunter Gorskie (New York, New York)
Midfielders: 
James Murphy (Scotch Plains, New Jersey)
Arun Basuljevic (Bronx, New York)
Mobi Fehr (New York, New York)
Sam Gleadle (Chichester, England)
Jiro Barriga Toyama (Chiba, Japan)
Simon Dawkins (London, England)
Robbie Crawford (Greenock, Scotland)
Forwards: 
Walmer Martínez (Santa Cruz, California)
Chase Boone (Beaverton, Oregon)
Seku Conneh (Voinjama, Liberia)
Christian Volesky (Henderson, Nevada)
Christopher Cortez (Mission Viejo, California)
Jesse Maldonado (Chandler, Arizona)
Adrian Rebollar (Watsonville, California)
Jason Johnson (Happy News, Jamaica)