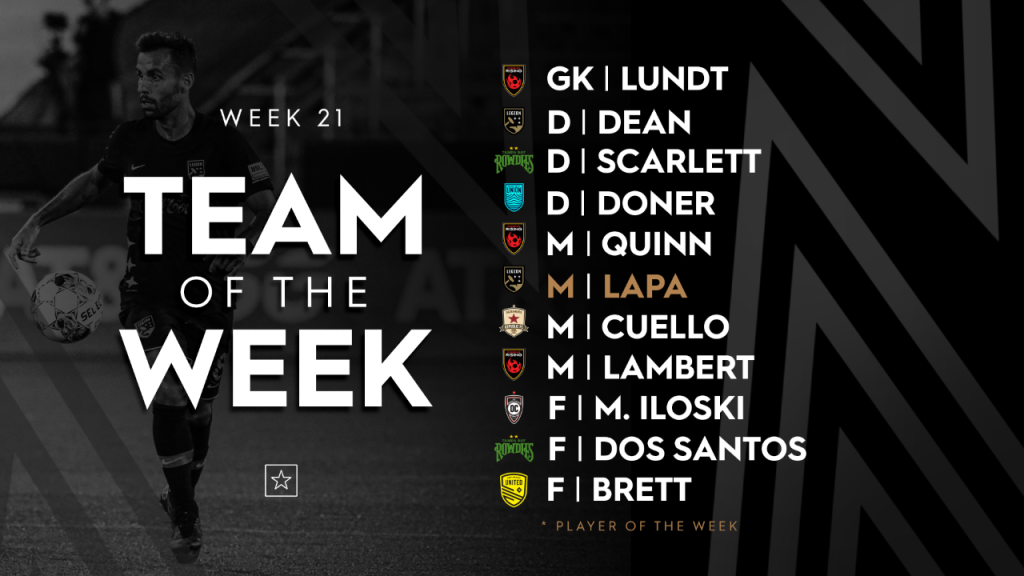 SEASIDE, Calif. (Tuesday, August 2, 2022) – Following Monterey Bay's fourth consecutive shutout victory this past weekend, a 1-0 win over Eastern Conference opponent Loudoun United FC, defenders Morey Doner and Grant Robinson have each been named to USL Championship's Team of the Week for Week 21.
Doner's performance against Loudoun United FC earned the fullback his first USL Championship best-11 honor as a member of the Crisp and Kelp. Doner recorded a 91.5% pass success rate on 47 passes in the match, while winning six of eight duels and adding three clearances and a foul won. In the attack, Doner created an impressive five chances for the Union.
Robinson's performance earned him a spot on the bench in Week 21's USL Championship Team of the Week. In addition to creating two chances in the attack, Robinson won two fouls and recorded three tackles, three interceptions and two clearances defensively.
Below is USL Championship's full Team of the Week for Week 21 lined up in a 3-4-3 formation:
Goalkeeper – Ben Lundt (PHX)
Defenders – Morey Doner (MB), Jonathan Dean (BHM), Jordan Scarlett (TBR)
Midfielders – Aodhan Quinn (PHX), Bruno Lapa (BHM), Emil Cuello (SAC), Kevon Lambert (PHX)
Forwards – Milan Iloski (OC), Steevan Dos Santos (TBR), Neco Brett (NM)
Bench – Grant Robinson (MB), Yannik Oettl (HFD), Mitchell Taintor (SA), Will Seymore (NM), Charlie Adams (SD), Luther Archimede (SAC), Albert Dikwa (PIT)
Next up, Monterey Bay F.C. will look to extend its unbeaten run to six matches when El Paso Locomotive FC make the trip out to Seaside this Saturday, August 6, while the Crisp and Kelp defense aims to earn its fifth consecutive shutout. Kickoff at Cardinale Stadium is set for 7:00 p.m. PT and can be streamed live on ESPN+.