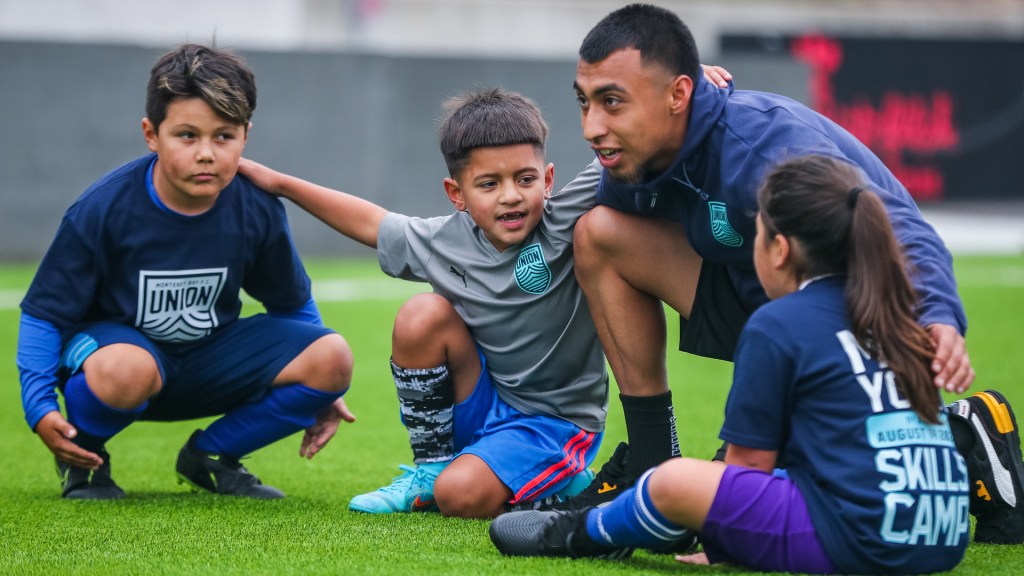 SALINAS, Calif. (Monday, August 15, 2022) – Monterey Bay Football Club (Monterey Bay F.C.) hosted the first-ever MBFC Youth Skills Camp at Cardinale Stadium over the weekend. The camp gave around 120 participants the opportunity to train with and learn directly from Monterey Bay F.C. players Seku Conneh, Kai Greene, Walmer Martinez, Adrian Rebollar, Hugh Roberts and Grant Robinson in a camp that aimed to help each participant enhance their skills.
"It was a great first camp, the kids brought a lot of excitement," said Roberts. "It was good for the community to come out here, you could tell by how excited even the parents were. The kids weren't shy about coming up to us and asking questions, which was good. It was very impactful, it was a good day."
The camp was broken up into two sessions by age group, a morning session for kids aged 5-11, and an afternoon session for 12-17 year olds. The players led each session of campers in drills focused on enhancing passing, dribbling and shooting skills, in addition to attacking and defending drills. Once all of the drills were completed, each group participated in a scrimmage to close out their camp session.
"We had fun with the kids, it was a great experience helping out with the first Monterey Bay F.C. camp ever," said Conneh. "I was happy to be part of it. I am grateful to the staff for helping us. The kids loved it, we got great feedback from the parents. I just hope we can do more camps like this for the community in the future. I think it's a good step forward."
For participating in the camp, each camper received a camp t-shirt and an MBFC swag bag containing a water bottle, mini soccer ball, lanyard, and a rally towel. After each session concluded, the players all participated in a Q&A with the campers before taking photos and signing autographs.
"The camp was great. The kids had fun, they enjoyed themselves, and the parents loved it," Martinez said. "Honestly, we loved having the kids come out with their parents showing their support and love as well. I think it gave great exposure to the kids to see something bigger, to see and learn from the pros. It was a great day."