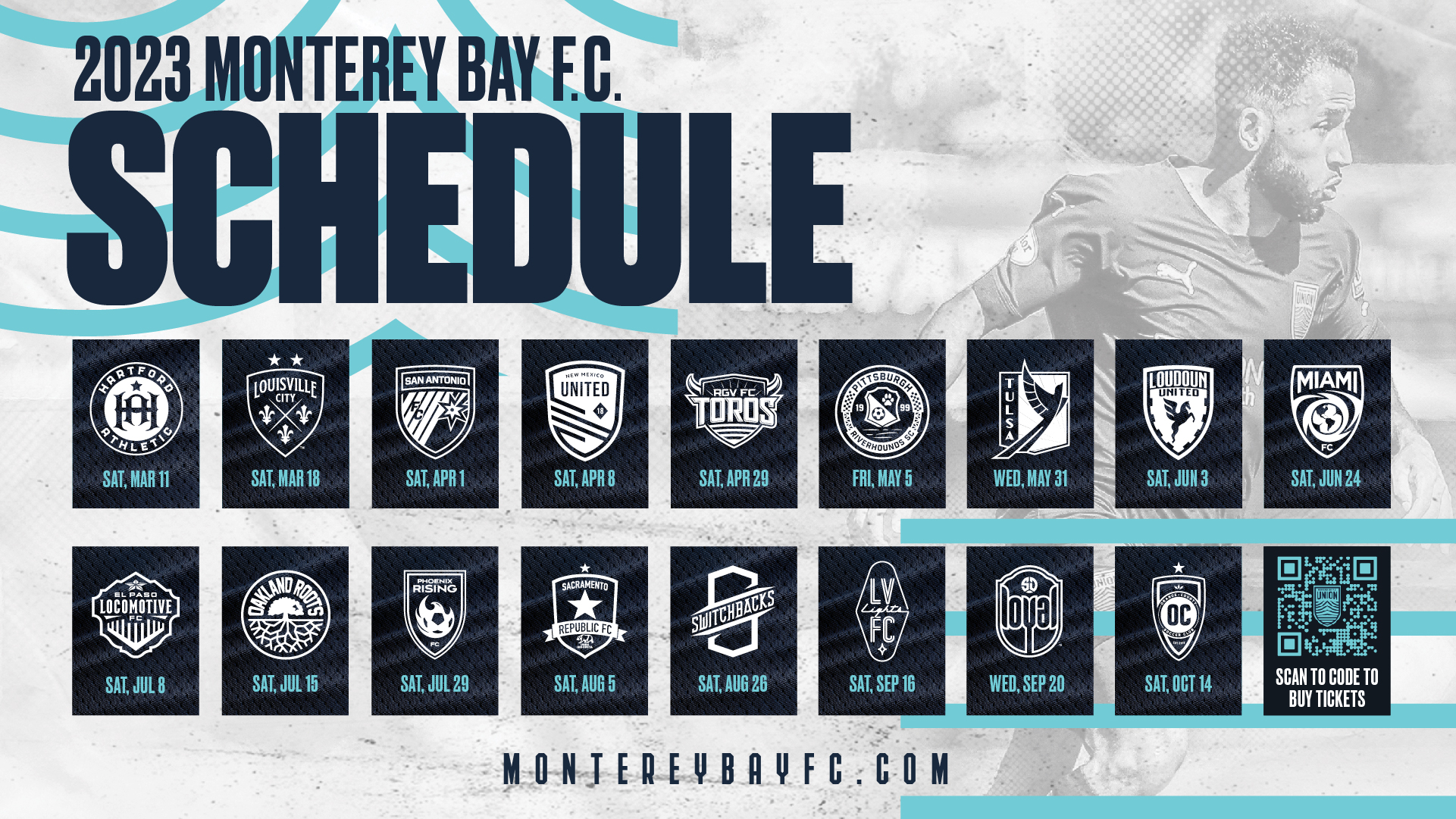 USL Championship and Monterey Bay F.C. Announce 2023 Regular Season Schedule
SEASIDE, Calif. (Monday, January 9, 2022) – The United Soccer League (USL) Championship has officially unveiled the full 2023 schedule, including all 34 regular season matches for Monterey Bay Football Club (Monterey Bay F.C.) ahead of its second campaign. The latest league competition and playoff formats were announced by the league as well.
The Crisp and Kelp open the season as hosts to Eastern Conference side Hartford Athletic on Saturday, March 11 at Cardinale Stadium. In total, the club begins the 2023 campaign with four home matches in its first five fixtures — a stark difference from last season when the club was forced to begin its inaugural campaign with a seven-match road trip due to ongoing construction at Cardinale Stadium at the start of last season.
Additionally, the club has plans for several theme nights at Cardinale Stadium throughout the season. These include Youth Soccer Night, Pride Night, Military Appreciation Night, Hispanic Heritage Night and more, culminating in Fan Appreciation Night for the regular season home finale on Saturday, October 14.
Monterey Bay F.C. will play each team in the Western Conference twice this season, once at home and once away, and will play each out-of-conference opponent once, with six of those matches taking place in Seaside and six on the road. In 2023, every team in the league will square off against one another at least once for the first time since a two-conference format was implemented by USL Championship in 2015.
This season's USL Championship playoff format will consist of an expanded sixteen-team field, with the top eight teams in each conference qualifying for a single-elimination, fixed-bracket postseason tournament. The playoffs will conclude with the 2023 USL Championship Final on a date to be determined between November 9 and November 13.
Fans can secure their spot for each regular season home match at Cardinale Stadium now by becoming a season ticket holder today. Visit MontereyBayFC.com/season-tickets for more information. Information regarding single-game tickets for the 2023 regular season will be made available at a later date. Single-game tickets for the preseason are available now at MontereyBayFC.com. Learn more about Monterey Bay F.C. by following @MontereyBayFC on Twitter, Instagram and Facebook, as well as online at MontereyBayFC.com.
Full 2023 Season Schedule
Saturday, March 11 …………… vs Hartford Athletic
Saturday, March 18 …………… vs Louisville City FC
Friday, March 24 ……………….. @ Rio Grande Valley FC
Saturday, April 1 ………………… vs San Antonio FC
Saturday, April 8 ………………… vs New Mexico United
Saturday, April 15 ………………. @ Phoenix Rising FC
Saturday, April 22 ………………. @ Indy Eleven
Saturday, April 29 ……………… vs Rio Grande Valley FC
Friday, May 5 …………………….. vs Pittsburgh Riverhounds SC
Saturday, May 13 ………………. @ New Mexico United
Saturday, May 20 ………………. @ Charleston Battery
Wednesday, May 31 ………….. vs FC Tulsa
Saturday, June 3 ……………….. vs Loudoun United FC
Saturday, June 10 ……………… @ Las Vegas Lights FC
Saturday, June 17 ……………… @ Sacramento Republic FC
Saturday, June 24 ……………… vs Miami FC
Saturday, July 1 …………………. @ Orange County SC
Tuesday, July 4 ………………….. @ Colorado Springs Switchbacks FC
Saturday, July 8 …………………. vs El Paso Locomotive FC
Saturday, July 15 ……………….. vs Oakland Roots SC
Saturday, July 22 ……………….. @ Detroit City FC
Saturday, July 29 ……………….. vs Phoenix Rising FC
Saturday, August 5 …………….. vs Sacramento Republic FC
Saturday, August 12 …………… @ Tampa Bay Rowdies
Saturday, August 19 …………… @ San Antonio FC
Saturday, August 26 …………… vs Colorado Springs Switchbacks FC
Saturday, September 2 ………. @ El Paso Locomotive FC
Saturday, September 9 ………. @ Memphis 901 FC
Saturday, September 16 …….. vs Las Vegas Lights FC
Wednesday, September 20 … vs San Diego Loyal SC
Saturday, September 23 …….. @ Oakland Roots SC
Saturday, September 30 …….. @ San Diego Loyal SC
Sunday, October 8 ……………… @ Birmingham Legion FC
Saturday, October 14 …………. vs Orange County SC