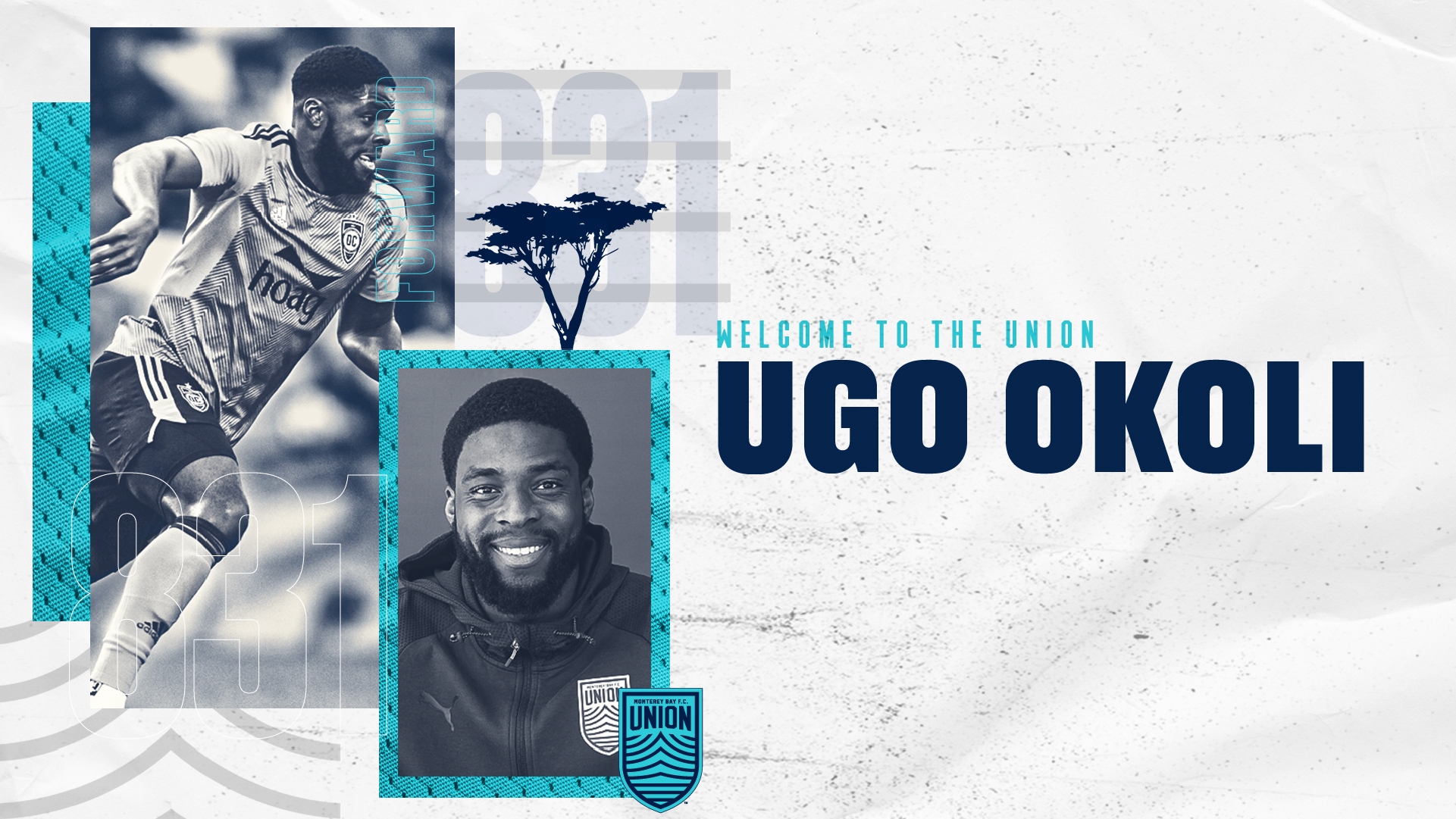 Monterey Bay F.C. Signs Former Orange County SC Striker Sean "Ugo" Okoli
SEASIDE, Calif. (Thursday, April 20, 2023) – Monterey Bay F.C. announced today that the club has agreed to terms with Ugo Okoli on a one-year contract, pending league and federation approval. The addition of Okoli provides the Crisp and Kelp with more experience and all-important depth at the top of the formation.
From Federal Way, Washington, Okoli got his start at the youth academy of his local MLS side Seattle Sounders FC, where he played and developed for four seasons before signing his first professional contract with the Sounders first team in January 2014. His MLS debut came on March 8 as a second-half substitute in the regular season opener against Sporting Kansas City.
Okoli then spent time with the New England Revolution before signing for then USL Championship side FC Cincinnati in 2016. In his single season in Cincinnati, Okoli won the league's Golden Boot award with 16 goals and was named as the league's MVP. His performance in the Championship earned him another MLS contract, this time with New York City FC, where he scored one goal in 16 appearances.
Following European stops in Sweden, Norway, and Austria, Okoli returned to the states to sign with Orange County SC in 2020 and recorded seven goals and two assists in 15 matches played. He then signed with Austin Bold in 2021 where he tallied four goal contributions in 13 appearances before re-signing with Orange County for the past two seasons. In 2022, Okoli made 35 appearances in all competitions and scored six goals with seven total goal contributions across 1,602 minutes. Now, the 30-year-old is making the move up the coast to Monterey Bay.
"We've been looking for a number nine to help out our forward group and Ugo will do exactly that," said Sporting Director and Head Coach Frank Yallop. "He's a good all around center forward. He's dynamic, strong, and good in the air. Ugo will bring a lot of experience, he's played a lot of minutes in the league. He had a lot of success at FC Cincinnati and we're hoping to bring that here with us."
During his time with the Sounders academy, Okoli spent three seasons attending Wake Forest University in North Carolina. While with the Demon Deacons, Okoli played a total of 61 matches (55 starts) and scored 24 goals with 9 assists. In addition, Okoli earned All-ACC Freshman Team in 2011, Second Team All-ACC in 2012, and First Team All-ACC in 2013.
"I'm excited to join MBFC. I've heard great things about the club, the group of guys, and the fans," said Okoli. "I think the style of play is a good fit and I know we can achieve big things this season. I'm also looking forward to working with Frank. I've known of him for many years and I have a lot of respect for him, his experience in the game, and his ability to help improve his players and teams."
He continued, "I can't wait to play in front of our home fans and win a lot of games this season. I think the Championship is something we can push for and win. I've played against most of the guys in our group throughout the years, so I'm ready to come in and bring my game and personality to the group. I'm just ready to get after it, win games and score goals. I want to continue to show the world what I'm all about."
NAME: Ugo Okoli
PRONUNCIATION: OO-go oak-O-lee
POSITION: Forward
DATE OF BIRTH: February 3, 1993 (30)
HOMETOWN: Federal Way, Washington
NATIONALITY: United States
PREVIOUS CLUB: Orange County SC
TRANSACTION: Monterey Bay F.C. has signed Sean Ugo Okoli to a one-year contract on April 20, 2023.
The current roster heading into 2023 as of April 20 is listed alphabetically as follows:
Goalkeepers (2): Carlos Herrera, Antony Siaha
Defenders (6): Morey Doner, Max Glasser, Kai Greene, Alex Lara, Hugh Roberts, Grant Robinson
Midfielders (7): Simon Dawkins, Mobi Fehr, Sam Gleadle, Walmer Martínez, James Murphy, Adrian Rebollar, Nevello Yoseke
Forwards (7): Chase Boone, Alex Dixon, Jesús Enríquez, Jason Johnson, Jesse Maldonado, Ugo Okoli, Christian Volesky