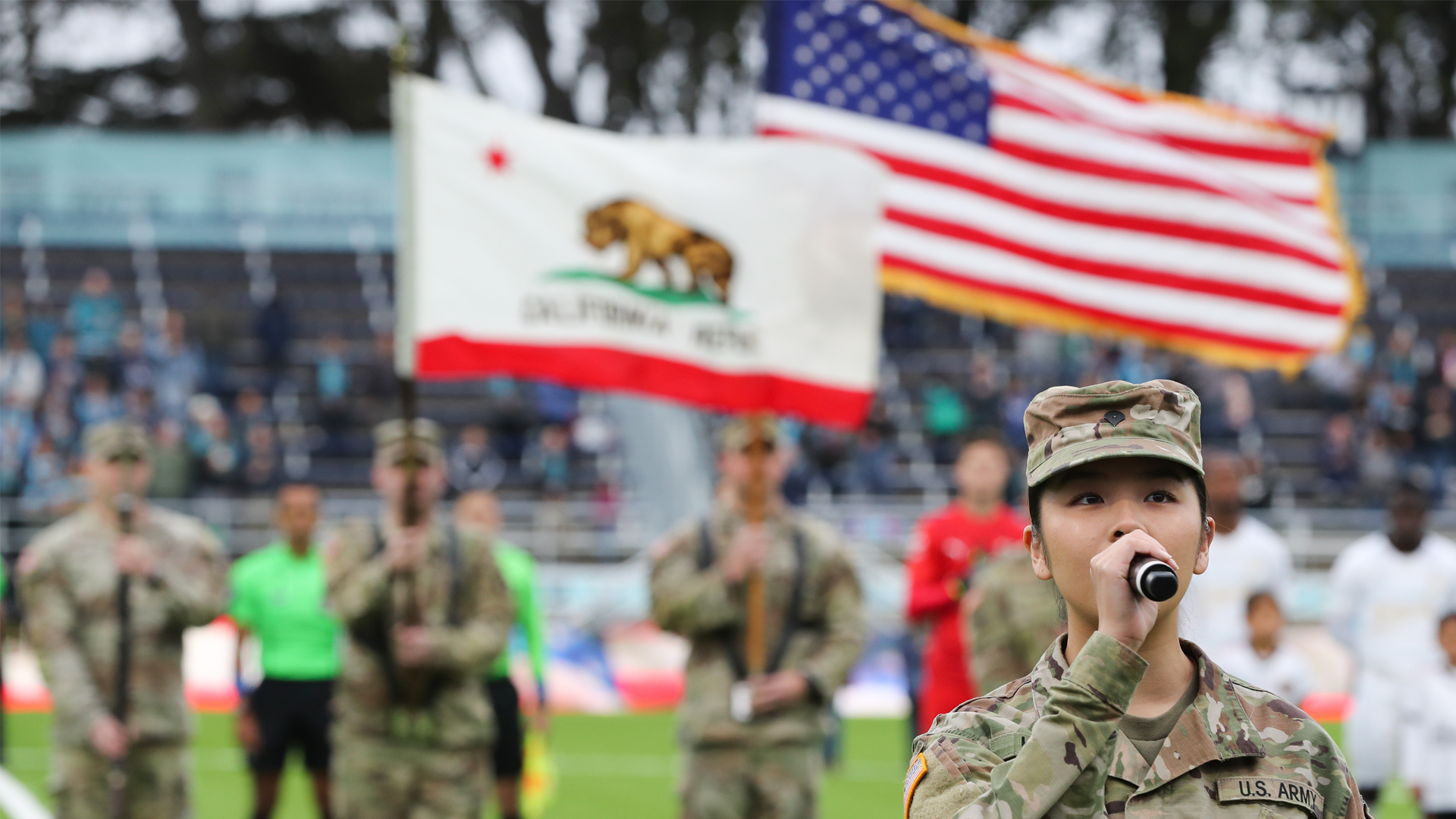 A Look Back at Monterey Bay Football Club's Second Annual First Responders Night at Cardinale Stadium
Monterey Bay Football Club celebrated its second annual First Responders Night at Cardinale Stadium last night in a match between the Union and Eastern Conference side FC Tulsa. The night began as gates opened two hours prior to kick off with the first 3,000 fans who entered the stadium receiving a special-edition, glow-in-the-dark MBFC rubber bracelet.
From there, as players from both teams walked out onto the pitch just minutes ahead of kick off, a U.S. Army color guard performed a presentation of colors followed by the National Anthem. Meanwhile, standing behind the players were the newest additions to the Monterey Bay F.C. All-Defensive Team, representatives from both Seaside and Salinas Police Departments, including some of their K-9 units. K-9s Oakley, Keno and Ronin were honored at the match with their accompanying officers.
Then at halftime, local Firefighters and Sparky, the official mascot of the National Fire Protection Association, each took part in Cardinale Automotive Group's Kick for Cash Challenge, a fun game that asks participants to kick a soccer ball and hit targets inside the goal for cash.
Prior to the match, MBFC partnered with the Monterey Firefighters Association and Alvarado Street Brewery to offer an exclusive, one-of-a-kind VIP Experience to the highest bidder in a charity auction, with all proceeds from the auction benefiting the Monterey Firefighters Community Foundation. The VIP Experience included 25 tickets to last night's match from the Fire Engine Field Suite, meal and drink vouchers provided by Alvarado Street Brewery, a team-signed fire helmet and a team-signed "Defend The 831" flag. The winning bid of $2,100 was donated.
"It was a true honor to be invited to the Cardinale Stadium and share the field with our incredible Monterey Bay F.C. athletes," said Police Chief Nick Borges of the Seaside Police Department. "To be recognized and honored by the biggest new sports team in our region was so meaningful to the Seaside Police Department. The Seaside Police Department supports Monterey Bay F.C. Union and we are grateful for the collaboration!"