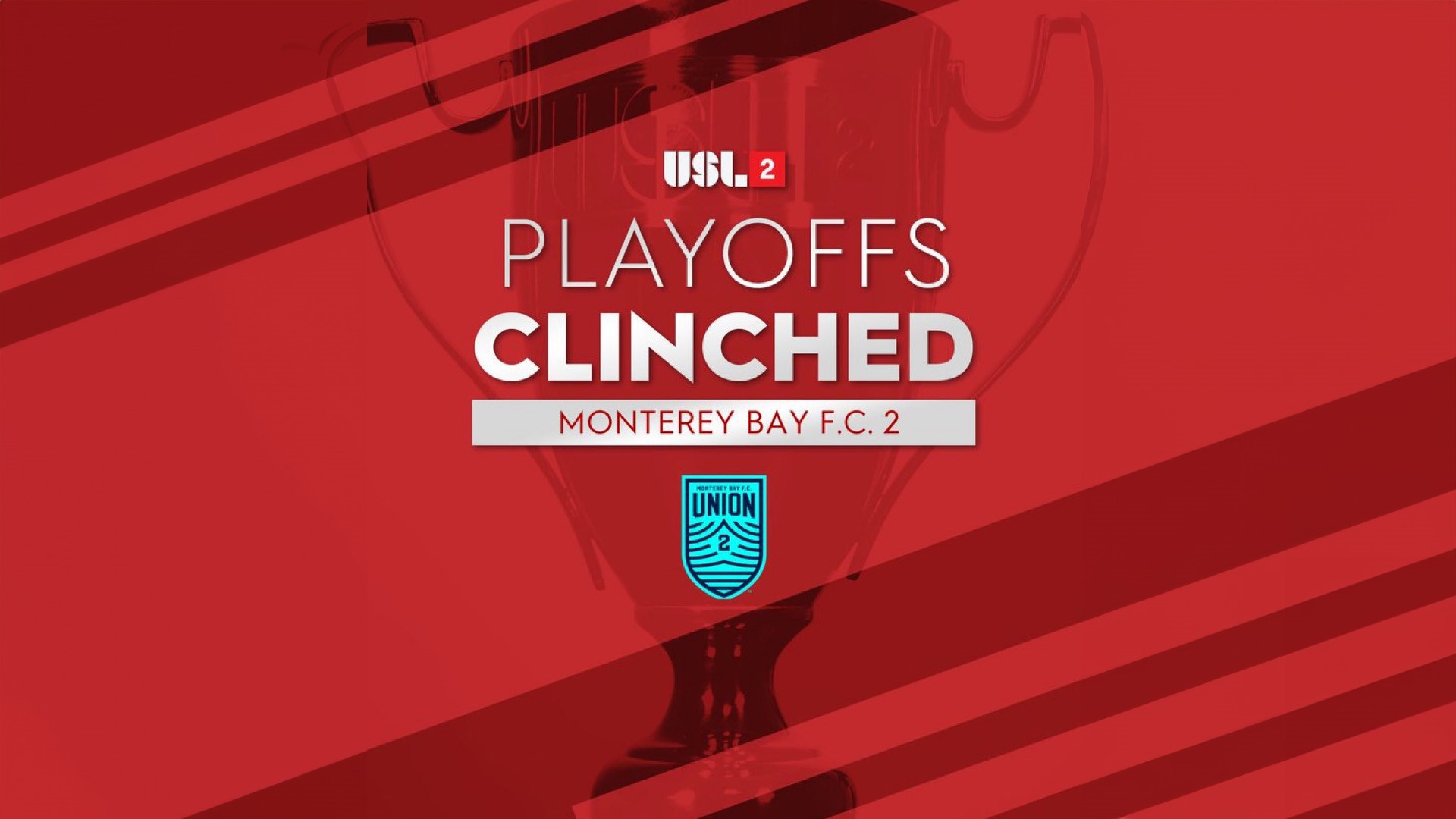 MBFC2 Clinches Spot in 2023 USL League Two Playoffs in Club's First Season
SALINAS, Calif. (Monday, July 3, 2023) – With back-to-back wins over NorCal Division rival Academica SC this past weekend, Monterey Bay F.C. 2 (MBFC2) has officially clinched a spot in the 2023 USL League Two Playoffs. With a playoff spot locked up, the Salinas-based development club will now look to secure the top spot in its division with two matches left to play.
"It's exciting that we've officially clinched playoffs – especially with it being our first season in USL2 and as a team," said Watsonville native and MBFC2 captain Hugo Vargas. "It means a lot to the team as this was one of our goals since the beginning of the season, so it's nice to see that all the hard work has been really paying off. Now that we have clinched playoffs, our next goal for us is winning the NorCal division and then winning it all."
Vargas is one of 14 local players on the 23-man roster and one of eight total players representing California State University, Monterey Bay (CSUMB). In total, the local 14 include six players from Salinas, two from Carmel, two from Watsonville, and one each from Aptos, Santa Cruz, Seaside, and Soledad. The largely local side also boasts local kit partners in Salinas-based Taylor Farms (front) and Montage Health (sleeve).
"I'm extremely happy for the boys," said MBFC2 Head Coach Ramiro Corrales. "It's never easy to start a team from scratch, so right away with the tryouts we picked guys that not only were talented, but had good attitudes – and that went a long way. When we started this project, I told the guys I need two things; attitude and effort. Always have a good attitude when you step on the field, whether it be practice or a game, and do that day in and day out. And I'm extremely happy because they've done that all season long. We have a good team – we've proven that. Going into these final two games and into the playoffs, we want to go out there, continue to do well and really represent this club."
MBFC2's final match of the regular season will be played on Fan Fest night at Cardinale Stadium as part of a double header with the first team on Saturday, July 15. At 3 p.m. PT, MBFC2 will take on Oakland-based division rival side Project 51O before Monterey Bay F.C. takes on Oakland Roots SC later that same night at 7 p.m. PT. Those who purchase tickets to the first team match will receive free entry into MBFC2's match earlier in the day. So fans looking to cheer on MBFC2 in their regular season home finale can do so for free by showing their ticket to the Monterey Bay F.C. vs Oakland match at the gate upon arrival to Cardinale Stadium. Gates are expected to open at 2:30 p.m. PT.
"The ability to create a competitive environment and then to be able to succeed in that environment in year one is special," said Monterey Bay F.C. President Mike DiGiulio. "The guys have been so good from an overall culture standpoint in addition to their success on the pitch. They have been a great example of what Monterey Bay Football Club stands for at the forefront; a positive and uplifting environment – and they are absolutely running with it. They are supporting each other and pushing each other to work hard. I am so pleased with the development of not only performing at a high level, but also teamwork, culture, and coming together to evolve this brand. This is a great group of guys and I couldn't be prouder of the work they are doing on and off the field as a team and as individuals."
More information about the 2023 USL League Two Playoffs structure and schedule will be announced soon. Learn more about Monterey Bay F.C. 2 at www.MontereyBayFC2.com.