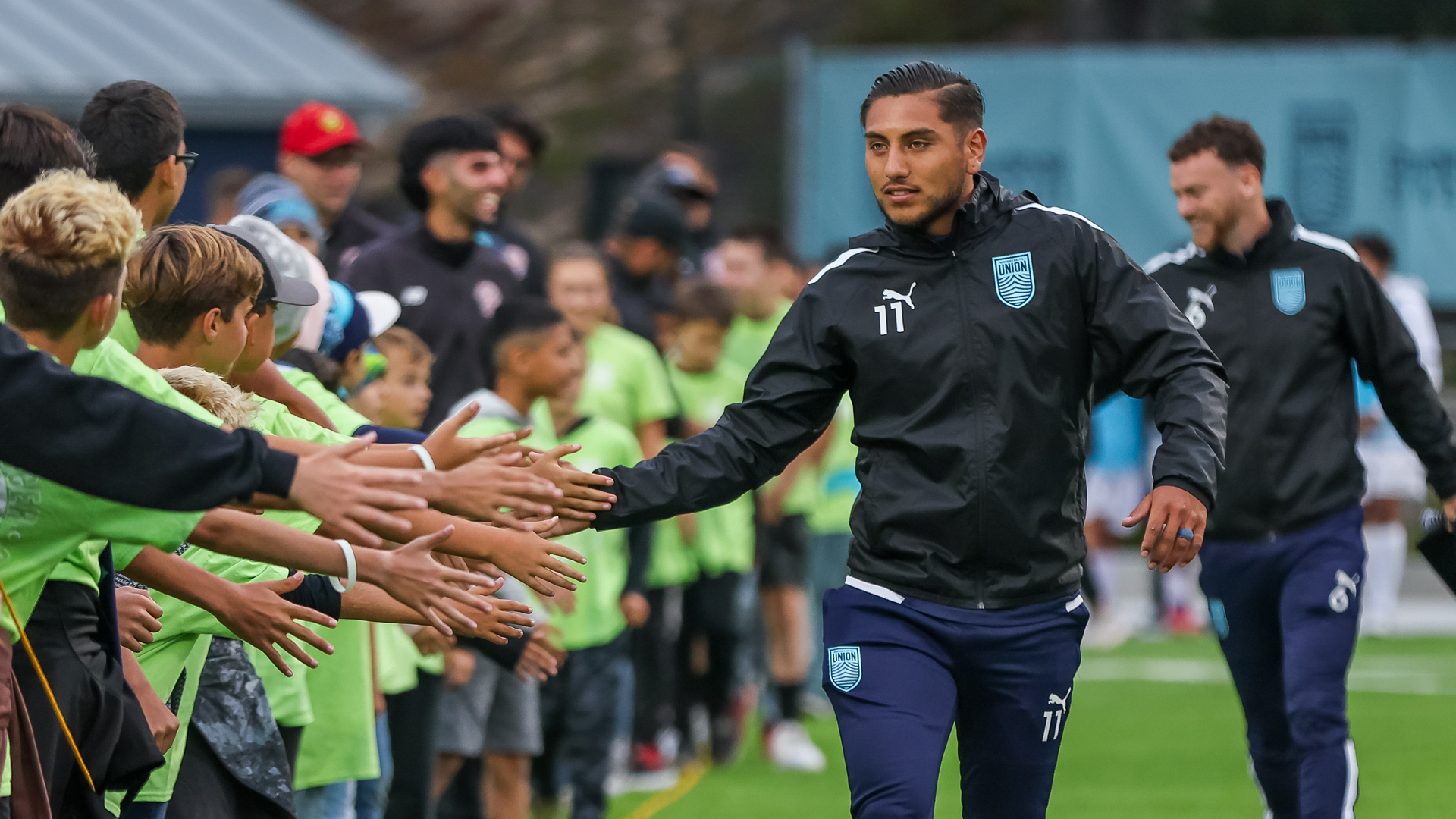 Looking Back on Monterey Bay Football Club's Back to School Night at Sold-Out Cardinale Stadium
Monterey Bay Football Club hosted its second annual Back to School Night at Cardinale Stadium, presented by Montage Health Foundation, on Saturday, August 26 against Colorado Springs Switchbacks FC in front of a sold-out crowd. 30 schools comprised of each level of education from around the 831 were represented at the match, with mascots from over half of those schools in attendance throughout the match.
The night began with free reusable tote bags being given out to the first 3,000 attendees. Out in the plaza, younger fans enjoyed fun games of soccer and jenga, while fans of all ages had the opportunity to sit in and take photos with a DeLorean courtesy of Monterey Touring Vehicles. Then just prior to the kickoff, the Club welcomed around 250 graduates of the 2023 Monterey Bay F.C. Summer Camps onto the pitch to be recognized before the San Carlos School Youth Choir performed the National Anthem.
At halftime, mascots from Alisal High School, Bayview Academy, California State University Monterey Bay, Carmel River Elementary, International School of Monterey, Monterey High School, Monterey Bay Charter School, Monterey Park Elementary, Monterey Peninsula College, San Carlos School, Spring Grove School, Washington Middle School, and Montage Health all teamed up to participate in a friendly relay race.
As the presenting sponsor of the night, MBFC partnered with Montage Health Foundation and Ohana in their effort to support the development of mental fitness in children, adolescents, and families in Monterey County communities.
The 30 local schools that were represented at Back to School Night were as follows:
Avondale Early Education Center (Seaside)
Bayview Academy (Monterey)
California State University, Monterey Bay (Seaside)
Chartwell School (Seaside)
Del Rey Woods Elementary School (Seaside)
Echo Valley Elementary School (Salinas)
Fairview Middle School (Gonzales)
Forest Grove Elementary School (Pacific Grove)
Harden Middle School (Salinas)
Hartnell College (Salinas)
International School of Monterey (Seaside)
Los Padres Elementary School (Salinas)
Monterey Bay Charter School (Pacific Grove)
Monterey Park Elementary School (Salinas)
Monte Vista Elementary School (Monterey)
Ord Terrace Elementary School (Seaside)
Rio Del Mar Elementary School (Aptos)
Robert Down Elementary School (Pacific Grove)
Robert Louis Stevenson School (Pebble Beach)
San Carlos School (Monterey)
Spreckles Union School District (Spreckles)
Tularcitos Elementary School (Carmel Valley)
Vista Verde Middle School (Greenfield)
Washington Middle School (Salinas)