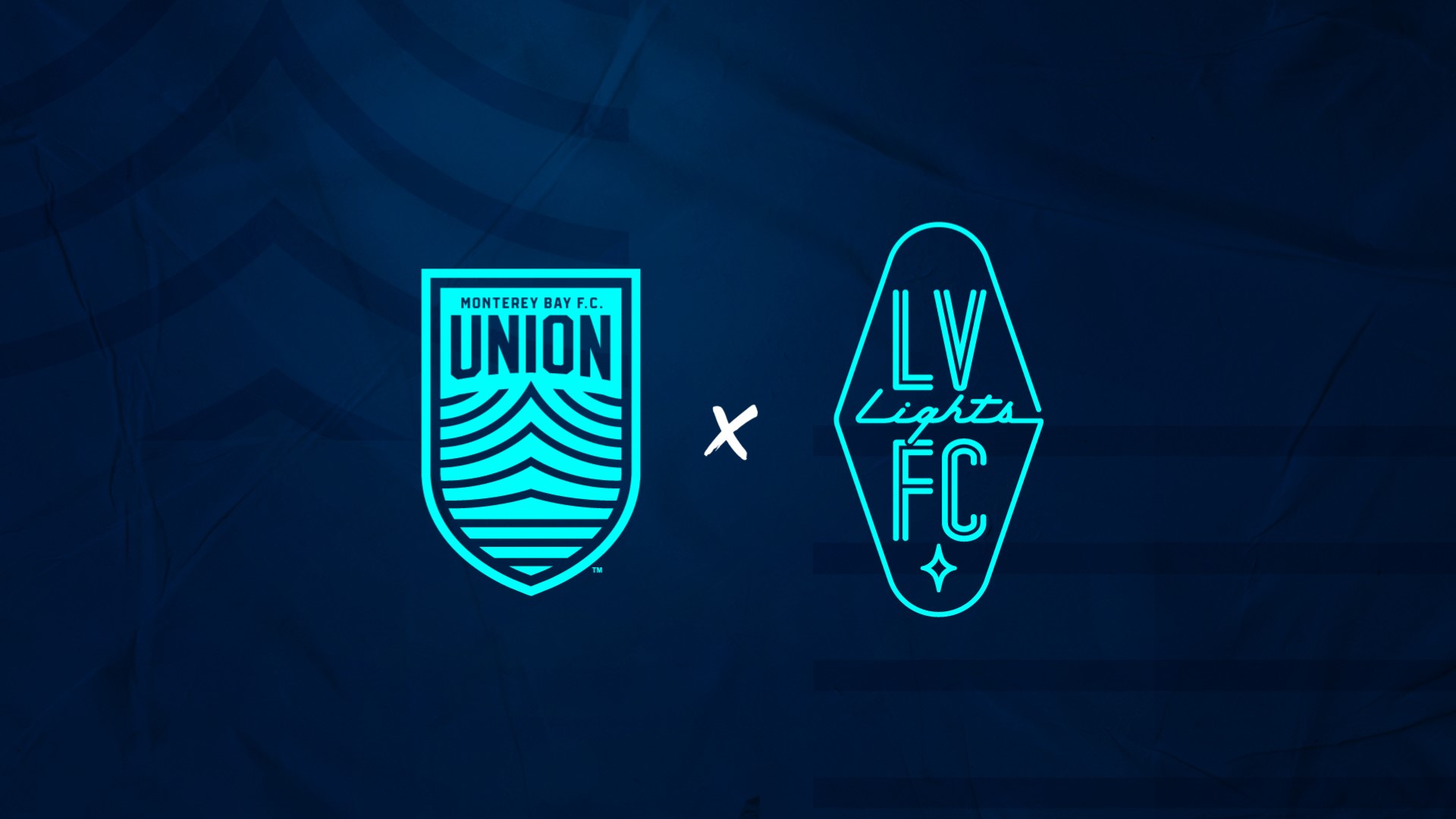 Monterey Bay Welcomes Las Vegas Lights FC to Hispanic Heritage Night at Cardinale Stadium
SEASIDE, California (Friday, September 15, 2023) – Monterey Bay F.C. (10-11-7, 37 points) returns home Saturday for an electric 7 p.m. PT showdown at Cardinale Stadium on Hispanic Heritage Night against Las Vegas Lights FC (3-17-9, 18 points) in Week 28 of the 2023 USL Championship regular season, presented by PUMA. Saturday's match will be broadcast locally on KION (46 & 23 over the air, 46 Dish, 27 DirecTV and 5/705 HD Xfinity), with live streaming available on Hulu, Paramount+, YouTubeTV, FuboTV, and ESPN+.
Monterey Bay enters the weekend on a three match winning streak and a four game unbeaten run overall following two impressive wins away from home in El Paso and Memphis, pushing the Union back over the playoff line for the first time since July 21. Recent midweek results have since pushed the Union into ninth place (tied for eighth), however, leaving the Club on the outside looking in again for now. Getting back above the line and securing a playoff berth in the Club's second season would be a feat on its own, but Monterey Bay suddenly finds itself in position to potentially climb even higher up the table with six matches left to play in the regular season. On the other side, Las Vegas is in full spoiler mode the rest of the way after being eliminated from playoff contention.
"The team is in a very good spot right now, the energy in the locker room is very positive," said Monterey Bay goalkeeper Carlos Herrera. "We have momentum going from these past four games, so the overall feeling in the team right now is confidence. Both in ourselves and confidence that we can go out and get a good result against anyone. After getting a couple of wins on the road, we're looking forward to coming home and hopefully getting a win in front of our fans on Hispanic Heritage Night."
The Union and Lights FC last met on June 10 in Las Vegas. After Morey Doner scored the opening goal just before the halftime break, Las Vegas scored early into the second half to tie it up at one apiece. In the end, Sam Gleadle scored the game-winning goal in the 89th minute to give Monterey Bay the 2-1 win, its first-ever win at Cashman Field. Monterey Bay owns the all-time series a 2-1-0 head-to-head record – including a 1-0-0 record in Seaside – though Lights FC owns a 5-3 goal difference in the series thanks to a lopsided 4-0 victory in a rescheduled match in Las Vegas at the end of last season.
SportsClubStats Playoff Predictor (55.2%)
Chance of playoffs with a WIN: 66.2%
Chance of playoffs with a DRAW: 42.9%
Chance of playoffs with a LOSS: 33.5%
Week 28 Fixtures to Watch:
New Mexico vs Indy (Friday – 6 p.m. PT)
→ Best outcome: IND win = MBFC +1.3%
Orange County vs Colorado Springs (Friday – 7 p.m. PT)
→ Best outcome: OC win = MBFC +3.0%
Oakland vs FC Tulsa (Saturday – 7 p.m. PT)
→ Best outcome: TUL win = MBFC +2.7%
Sacramento vs El Paso (Saturday – 7 p.m. PT)
→ Best outcome: SAC win = MBFC +2.5%
Monterey Bay F.C. vs. Las Vegas Lights FC
Cardinale Stadium; Seaside, California
Saturday, September 16, 2023; 7:00 p.m. PT
Access MBvLV Match Notes
The Adobe PDF version of the 2023 Match Guide in advance of Saturday's contest between Monterey Bay F.C. and Las Vegas Lights FC can be found here. Media members looking to receive the document as an attachment or have further questions are asked to please contact Steven Vargo in MBFC Communications via email at steven@montereybayfc.com.
2023 Records
Monterey Bay F.C. (10-11-7, 37 pts, 8th West); Las Vegas Lights FC (3-16-9, 18 pts, 12th West)