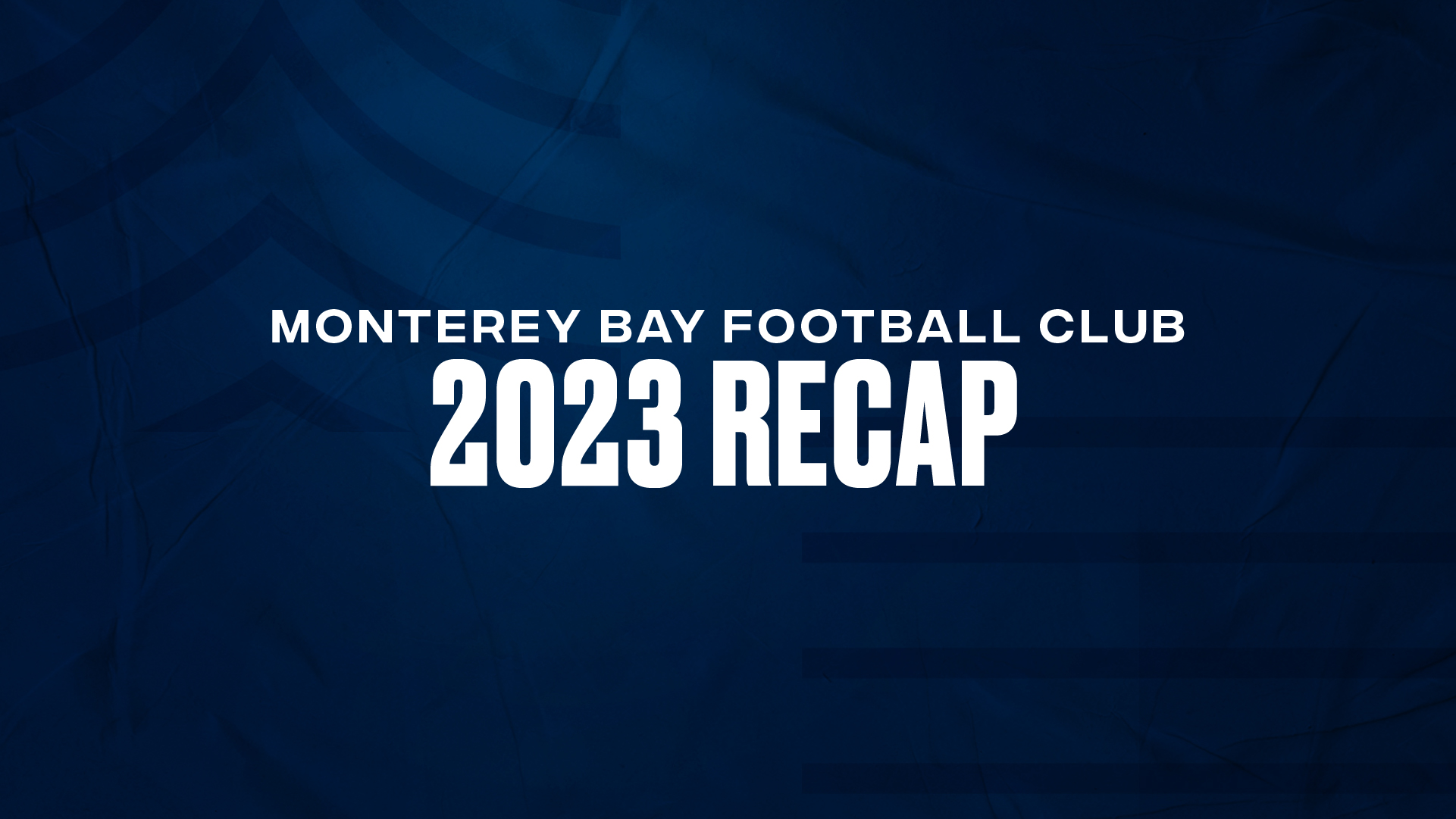 2023 Season Recap
The curtains have closed on an eventful sophomore campaign for Monterey Bay Football Club in 2023. Unlike the Club's inaugural season, the Union jumped out to a solid first half of the campaign, jumping out to a 7-4-5 record and a total of 26 points through 16 games (1.6 points per game). On pace for over 50 points at the halfway mark, the season stalled with a winless July – the exact opposite of 2022 in which the team's season was sparked by an undefeated July. Even still, the Crisp-and-Kelp battled back to win four straight games down the stretch to reposition themselves in the playoff conversation in exciting fashion. Though the Union came up short of a place in the postseason in year two, this season was yet another step in a positive direction as Monterey Bay F.C. continues to grow both on and off the pitch heading into year three.
Memorable Moments
Perhaps the most memorable moments from Monterey Bay's second season came from its special, unforeseen run in the 2023 Lamar Hunt U.S. Open Cup that started with a 3-1 road win in extra time over USL League One side Central Valley Fuego FC. From there, the team was drawn to host Major League Soccer (MLS) neighbors San Jose Earthquakes at Cardinale Stadium – a historically-connected match that ended with a stunning 1-0 win for the Crisp-and-Kelp, the first victory over an MLS opponent in Club history. With all eyes on the next draw, Monterey Bay F.C. was picked to host Los Angeles FC (LAFC), the defending MLS Cup Champions. Behind a raucous atmosphere that you had to see to believe, the Union pushed LAFC all the way into extra time here in Seaside before falling in an exciting penalty shootout.
Monterey Bay F.C. also came flying out of the gates in regular season play with a home match full of fireworks on opening week. New signing Alex Dixon scored two minutes into the match on his way to recording the Club's first-ever hat trick in the first half alone. The Union won that match 5-3 over the visiting Hartford Athletic, starting the season off with a bang. One of the first memorable moments away from Seaside this season came in April in Indianapolis in a match that saw Monterey Bay erase a 2-1 deficit to defeat Indy Eleven 3-2 behind goals from Grant Robinson, Christian Volesky and newcomer Nevello Yoseke.
The Club also strung together two different five-match unbeaten runs this season, each with a draw preceding four consecutive wins. In June, during the first of the two stretches, Monterey Bay stormed into Hearth Health Park in Sacramento and gave NorCal rivals Republic FC its first home loss of the season with a 1-0 shutout victory. The following week, the Crisp-and-Kelp returned home to host Miami FC. Scoreless through the hour mark at Cardinale Stadium, the visitors were given a penalty. Diving to his right, goalkeeper Antony Siaha made the save and then in a flash, Dixon raced down the pitch to score on the other end and put the Union on top – a match-winning sequence in just 15 seconds from end to end.
The second such undefeated run stretched midway into September and included impressive back-to-back road wins over El Paso Locomotive FC and Eastern Conference side Memphis 901 FC. The Union scored first in El Paso before conceding an equalizer five minutes into the second half, but a late goal from second-half substitute Ugo Okoli sealed the 2-1 victory. The following week, Monterey Bay traveled to AutoZone Park in Memphis, Tennessee and shutout an impressive Memphis side in a 1-0 win.
Community & Partners
Following a successful first year, Monterey Bay Football Club took another extremely positive step out into the community this season. Union players visited over a dozen local schools during the spring and fall seasons in addition to nearly 30 other community appearances in 2023. The Club also executed several community events with partners this year. In June, MBFC hosted Montage Health's Camp Ohana at Cardinale Stadium. The camp focused on mental fitness for youth and included three sessions over three weeks with different Union players at each session. The following month, Monterey Bay F.C. hosted Fan Fest, a night that featured an afternoon MBFC2 match before the first team hosted Oakland in its first-ever ESPN2 broadcast. Then ahead of the Union's big Back to School Night, the Club worked with partner Monterey Touring Vehicles to film its promo video for the match that featured MBFC forward Chase Boone firing up a DeLorean.
Another community-initiative followed in September when Monterey Bay F.C. and Taylor Farms came together to host its Healthy Goals Camp for over 100 members of the Boys and Girls Club of Monterey County (BGCMC). The camp offered the attending youth an exclusive, one-of-a-kind soccer experience on the Cardinale Stadium pitch prior to a match. Each member of the BGCMC were given tickets to the game and recognized on the pitch at halftime. As part of the Club's Breast Cancer Awareness Night in October, the MBFC Shop sold pink long-sleeve tees and donated the proceeds to community partner the Breast Cancer Assistance Group of Monterey County (BCAGMC). Following the match, the Club also sold a game-worn Breast Cancer Awareness Night jersey of each and every player with all of those proceeds going to the BCAGMC as well. Most recently, Monterey Bay F.C. teamed up with Cardinale Automotive Group to volunteer and package Thanksgiving meals at The Food Bank for Monterey County ahead of the upcoming holiday.
Attendance Records & Theme Nights Galore
As expected, 2023 included the two highest attended matches at Cardinale Stadium in Monterey Bay F.C. history. The Union's match against LAFC saw 5,808 in the house, breaking its overall attendance record from last season. Also topping Monterey Bay's previous attendance record was a match that became the highest-selling regular season game in Club history as 5,720 fans enjoyed Back to School Night against Colorado Springs Switchbacks FC on August 26.
The biggest theme night of the year, Back to School Night featured 30 schools from multiple levels of education all around the 831 and saw 14 different school and partner mascots make appearances throughout the night. Monterey Bay hosted nine theme nights in total this season, including Youth Soccer Night, Cinco de Mayo, First Responders Night, Pride Night, Military Appreciation Night, Hispanic Heritage Night, Hospitality Night, Breast Cancer Awareness Night, and the aforementioned Back to School Night. Breast Cancer Awareness Night came on the season finale and featured a PINK-OUT. Fans were encouraged to wear pink and the first 1,500 through the gates received a pink t-shirt.
MBFC2's Inaugural Season
Monterey Bay Football Club announced development club MBFC2 in February with the goal of creating a clearer path to the first team for young local players. The team began play in USL League Two, a pre-professional development league, in May and had an extremely successful first season that saw MBFC2 advance to the USL League 2 playoffs as the NorCal Division champions. MBFC2 kicked off with a friendly against MLS NEXT Pro side San Jose Earthquakes II in Salinas and secured a draw in its first ever match. From there, the development side began league play and went undefeated in its first seven matches. MBFC2 finished the season with an emphatic 10-1-1 record before falling away from home against Ventura County Fusion in the USL2 Playoffs Round of 32.
Be the Difference in 2024
Monterey Bay F.C. took substantial strides in its overall growth as a club in 2023. From its rising role as a pillar in the community to palpably reaching young soccer players all over the 831 by delivering a path-to-pro opportunity through an exciting development side that is just getting started. Though MBFC was unable to make the playoffs in only its second season as hoped, the team on the pitch found great success in the U.S. Open Cup and is just getting started as well. Overall, this past season was filled with even more firsts than the year before, and 2024 is set to be Monterey Bay Football Club's biggest year yet.
It's not too late to join the Greatest Union of Land and Sea. Be the difference at Cardinale Stadium next season and secure your 2024 season tickets today. 2024 Season ticket holders will receive new and enhanced exclusive benefits, plus additional perks for lounge, field level & club seats. Available now at www.MontereyBayFC.com/season-tickets.