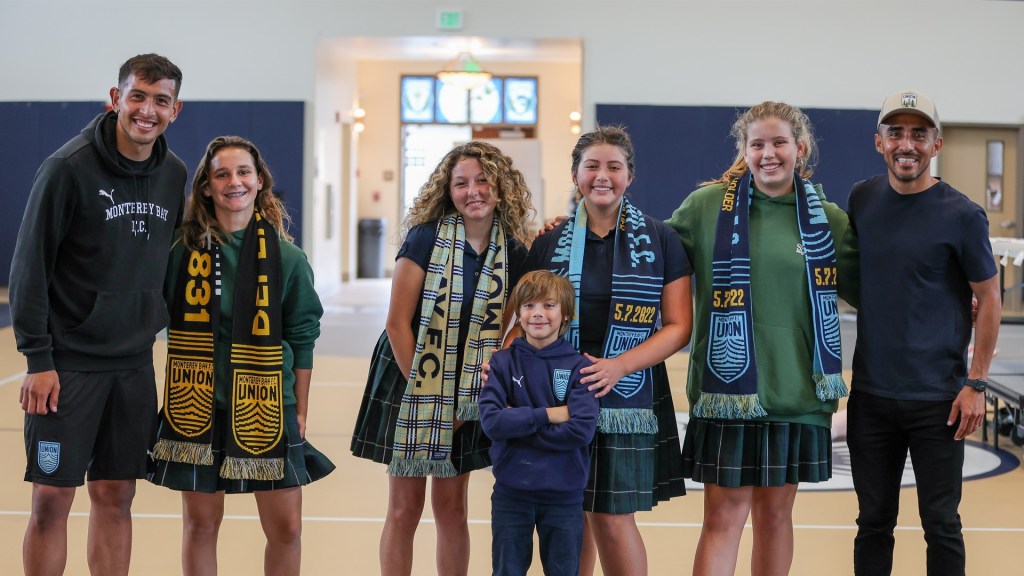 Monterey Bay Football Club Visits San Carlos School in Monterey
MONTEREY, Calif. (Friday, September 15, 2023) – Monterey Bay Football Club (Monterey Bay F.C.) midfielder Rafael Baca and goalkeeper Carlos Herrera visited San Carlos School in Monterey, California on Thursday, September 14 after the school earned a player appearance as part of the Club's new Community of Schools Program.
Following an energetic, pep-rally style entrance into the school's gym, Baca and Herrera spoke in detail to the students about their careers as part of a SportsCenter-esque live show hosted by the school's two recently elected Sports Commissioners. The players then answered various questions submitted by the rest of the students including how they got started playing soccer, their favorite celebrations, and more. Then after performing a few tricks with a soccer ball, Baca and Herrera closed out the appearance with high-fives for each and every student as they exited the gym.
Local schools and/or educational institutions interested in joining Monterey Bay Football Club's Community of Schools Program or learning more may contact Sales Executive Brady Bergeron at brady@montereybayfc.com.